The RadiLink® RF Optical Link is an innovative technology that enables the transmission of RF signals using optical light. This approach ensures signal purity and allows for RF communication over extensive distances with minimal losses. Moreover, the RadiLink® has an extremely low noise figure (2 dB) and high compression (0 dBm), making it a optical link with versatile usability.
The RadiLink® offers a solution using 8 RF input channels creating a game changing potential in the realm of RF communication and Automotive testing, for example CISPR 25. All 8 channels can be configured individually and switch automatically using software commands or RadiMation®.
in addition, the Radilink® can apply phantom power on all 8 RF input channels using integrated bias Tees. This phantom power can be internally generated or can be externally applied.
Other fiber optic link systems fall short in dynamic range for CISPR
25 EMI applications. RadiLink® offers a broad dynamic range to measure
strong RF signals, with an unprecedented 170 dB dynamic range of the
RadiLink® RF Optical Link. The RadiLink®'s low noise figure combines
with high dynamic range to enhance measurement receiver sensitivity,
resulting in accurate and precise signal detection.
RadiLink® is essential in automotive measurements with frequent
exposure to various interference sources. It provides reliable and
accurate measurement solutions, significantly improving the efficiency
and quality of automotive EMI testing. Engineers and technicians rely on
RadiLink® as a crucial tool for precise measurement and analysis of
electromagnetic interference in vehicles.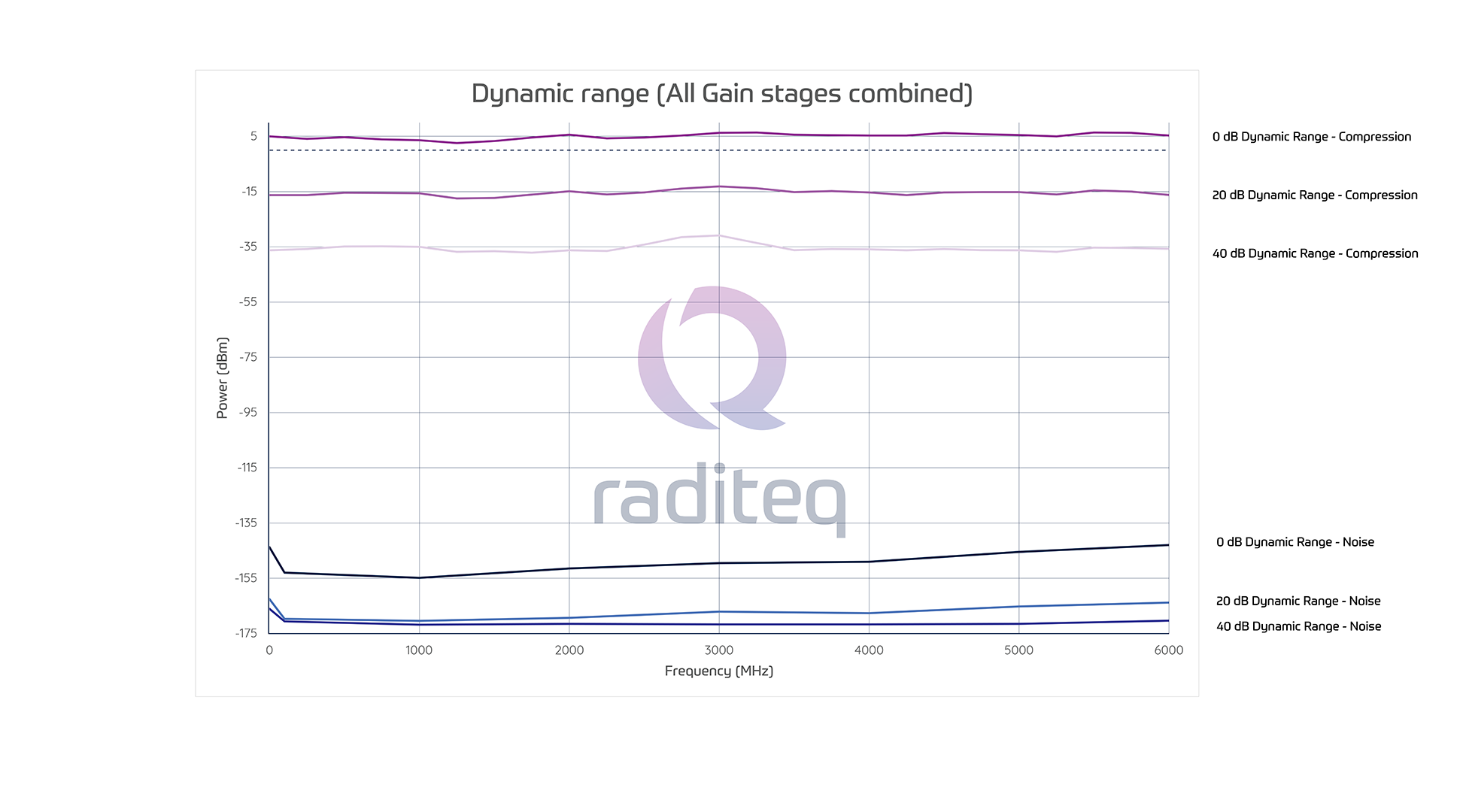 The RadiLink® RF Optical Link complies with the CISPR25 standard paragraph 5. It can measure emissions received by an antenna on the same vehicle. The frequency range of the RadiLink® RF Optical Link is 9 kHz to 6 GHz. It covers different antenna signals, including AM/FM/TV broadcast services, digital broadcast, and mobile services. The AM/FM/TV broadcast services range from 150 kHz to 944 MHz. The digital broadcast range is from 167 MHz to 2.345 GHz. The mobile services range is from 26 MHz to 5.925 GHz.
Eight Channel RF Optical Link
The RadiLink RF optical link system has two parts. The first part is the RadiLink model RLK3016C RX plug-in card, positioned in the control room near the EMI receiver. The second part is the RadiLink model RLK3086R 8-channel remote unit, placed in the vehicle. An integrated RF-switch allows for automatic selection of up to 8 different measurement antennas in the car with a single RadiLink unit.
The RadiLink® RF Optical Link comes in a ruggedized aluminum enclosure that is only 175 mm x 83 mm x 47.5 mm (LxWxH) in size. This makes it effortless to mount and connect to the antenna measurement setup inside a vehicle.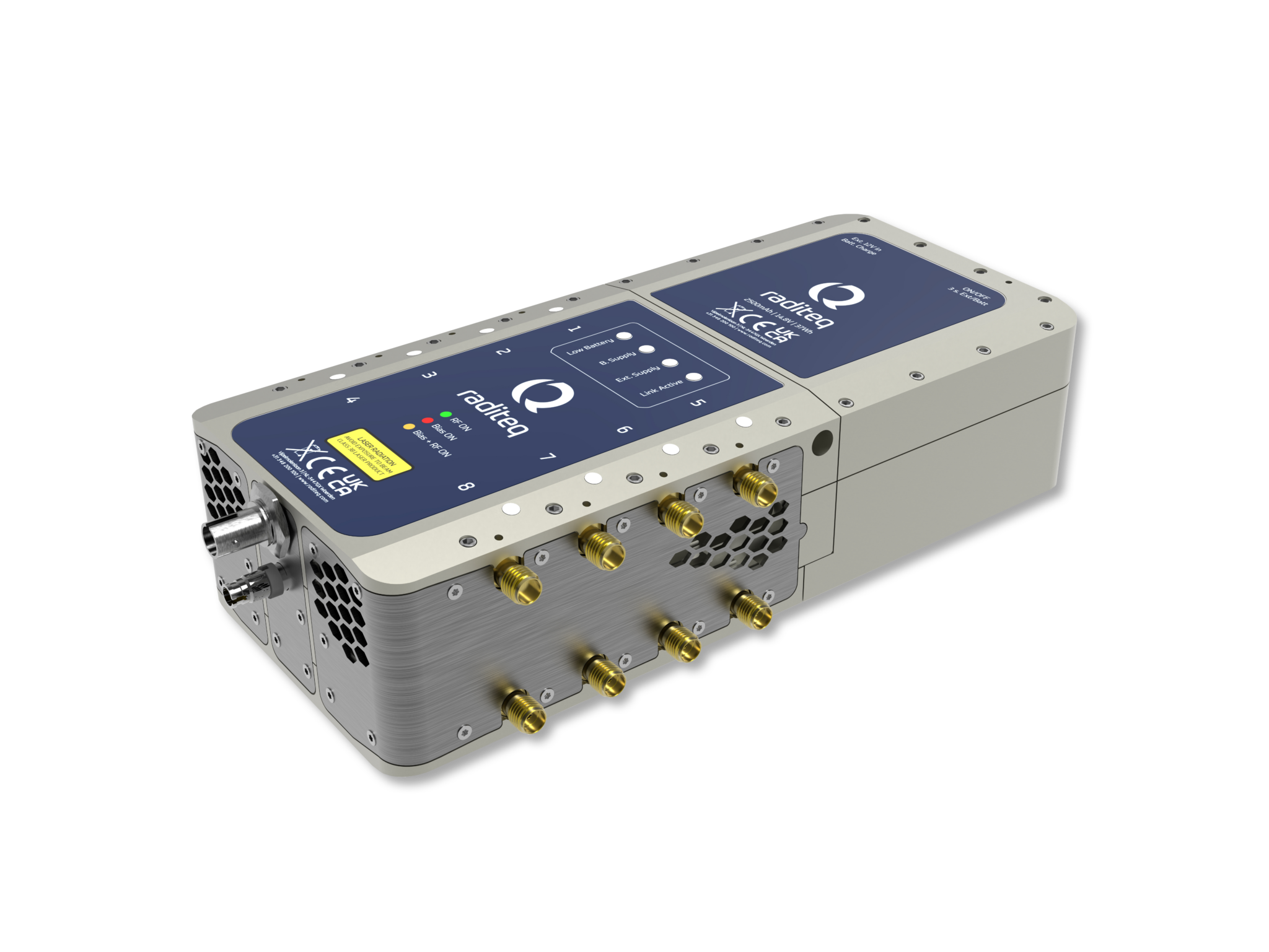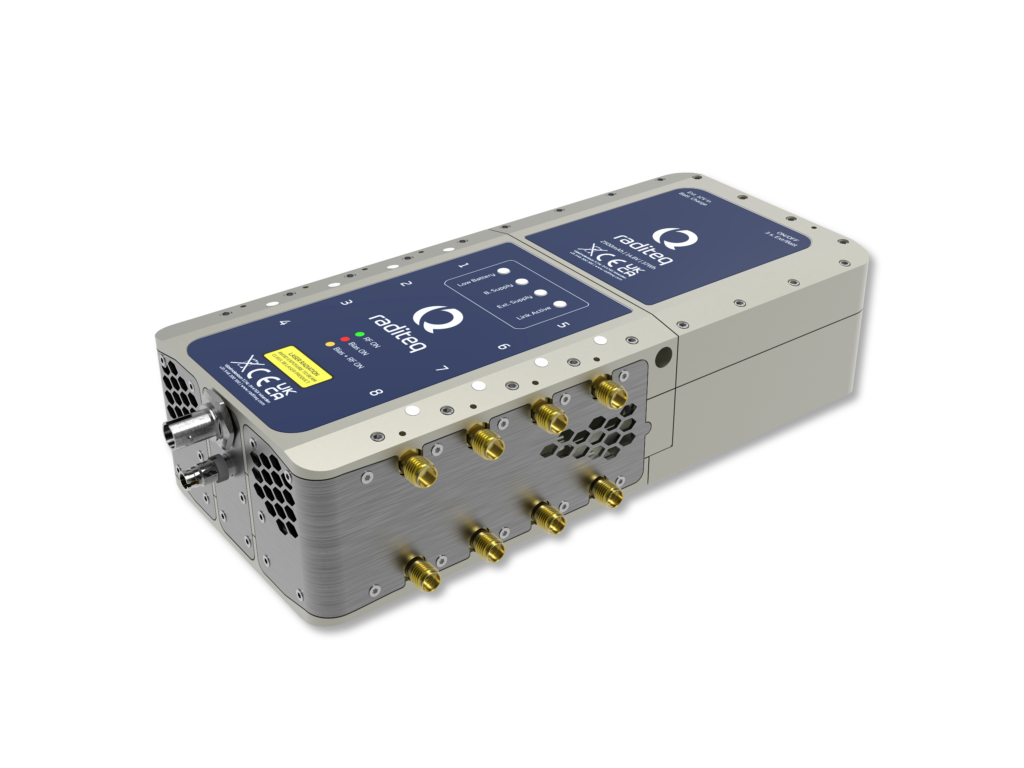 The RadiLink® has an exchangeable Li-Ion battery pack (model RLK3004B), which is rechargeable using the standard supplied external charger. The battery pack enables the RadiLink® to operate for up to 4 hours. Moreover, it is possible to order an additional battery pack for easy replacement and continued battery operation.
Integrated Phantom supply
The RadiLink can configure each RF input to deliver phantom power supply to feed active antennas. The phantom supply power is delivered by the replaceable battery pack of the RadiLink. The output voltage can be software configured between 5V and 12VDC for each channel independently. Each channel can deliver up to 200mA supply current, covering virtually any need. Alternatively, the phantom supply for each channel can also be connected externally.